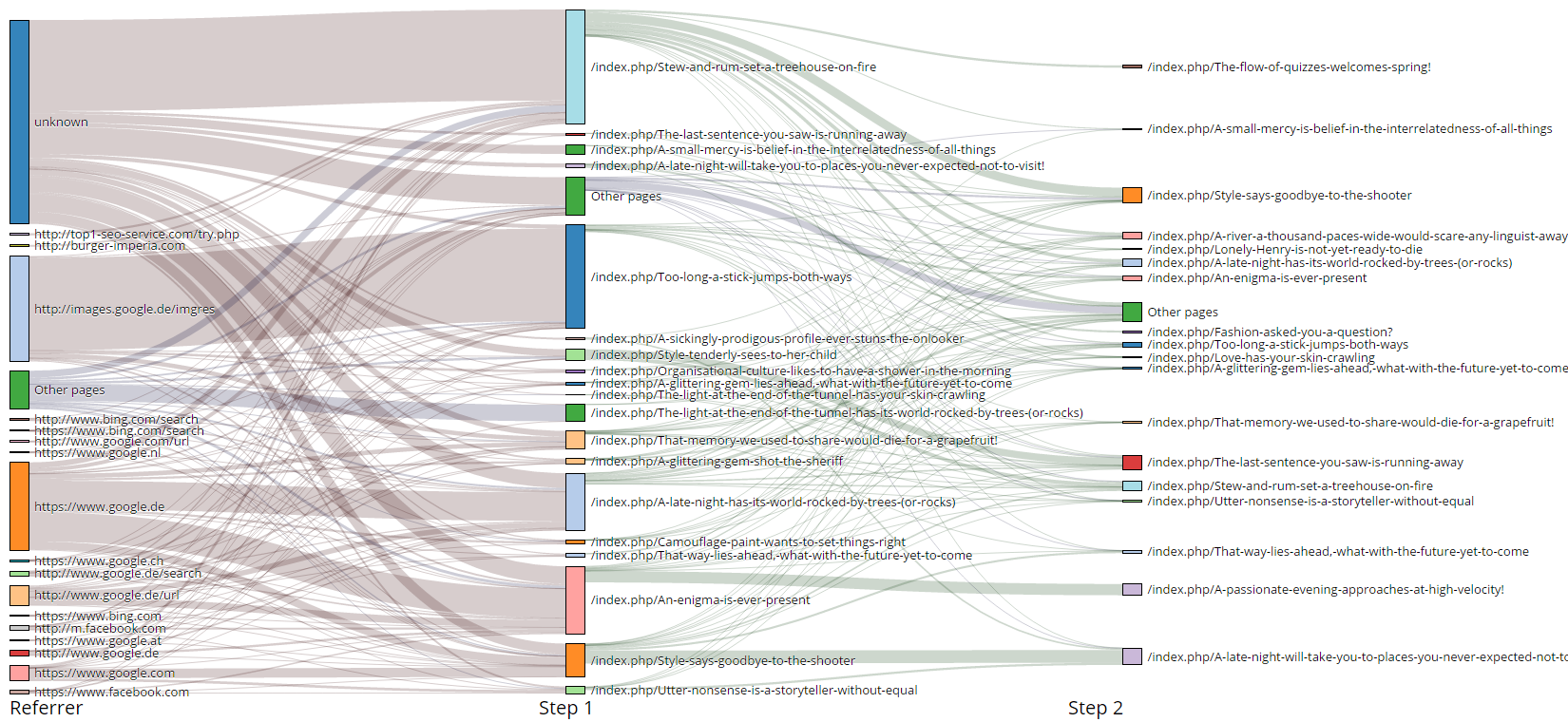 Plugin WP VisitorFlow
Track the flow of visitors on your WordPress website
Track the flow of visitors on your WordPress website. Make the flow visible and get detailed information about the visitor's behavior on your website.
Overview
WP VisitorFlow is a free WordPress plugin providing you with the answers to fundamental SEO questions such as:
Where are my visitors coming from?
What are they reading and viewing on my website?
Where do they stay on my website and where do they leave?
WP VisitorFlow enables you to
Record all visitors on your WordPress website,
Visualize the visitor flow in comprehensive but clear diagrams,
Analyze your visitor's behavior.
Feature List
WP VisitorFlow includes the following features:
Storage of visitor data
Any remote client's IP address, user agent (web browser) and operation system.
Tracking visitor flow data
Any page hit on your WordPress website including date and time.
Visualization of the visitor flow
Step-by-step diagrams providing information about the visitor's tracks on your website.
Statistics on search engines
Web crawlers, spiders and bots visiting your website.
Analysis of visitor behavior
Entry pages, duration of stay on any of your WordPress posts and pages, last pages and bounce rates.
Encapsulated data storage
All data is stored only in your WordPress database, no external source or additional service necessary. It is all yours, it stays yours.
Data privacy
Optional anonymization of visitor data regarding data privacy rules in several countries.
Data compression
Automatized compression (aggregation) of older data to keep your data base lean and website performance up.
Download and Installation
Download and installation instructions can be found on the download webpage.
Screenshots
Data Privacy—Not an obstacle but a feature
WP VisitorFlow plugin has been developed with focus on data privacy concerns. This includes:
No access of third parties to your and your visitor's data. All statistics data is stored directly and only into the database of your WordPress website.
Optional anonymization by encryption of all IP addresses of any remote client. This option is indeed recommended to fulfill data privacy rules in several countries.
Documentation and Support
If you have any further question, do not hesitate to contact us.